Music Groups / Music Classes for Toddlers and Babies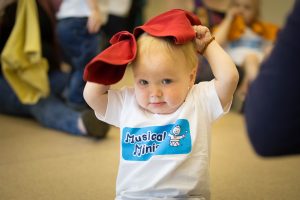 Musical Minis Oxfordshire was established in 2009.
The sessions are designed for children from birth – 5 years.
We follow the Early Years Foundation Stage (EYFS) so work to the same framework as nurseries and preschools, working on the key areas of a child's development including co-ordination, speech, social and interpersonal skills, concentration and listening skills, all in a very relaxed and informal setting. The children learn through music and movement, having fun at the same time, as do the parents/carers!
Babies as young as a couple of weeks old join our classes which have been endorsed by Health Professional as a great aid for a child's development. Of course a baby would get something totally different out the sessions than a 3-4 year old, who is ready to start preschool or already attending preschool. Babies who start attending sessions at a young age show very early signs of development in terms of fine motor skills, co-ordination and other key areas listed above.
Payment is made in advance per term and the cost is £6.50 per 45 minute session (25% discount for additional children who are the sibling of the first child). If you wish to come and see what the class is about then you can email me to book your child in for a trial costing £6.50, before you decide to commit.  Places are limited and allocated on a first come first served basis.
Follow us on Facebook, Twitter and Instagram for the latest news and offers!
There is a one-off membership fee of £10.00 per child that includes a branded item, Musical Minis App and also covers insurance for your child. You would never pay this again, even if your child stopped classes for a term and then returned after that.
CLICK HERE to watch a video about Musical Minis in Oxfordshire.
To read Musical Minis Health and Safety reassurance in relation to coronavirus click here.