Pre-school music classes from birth to 5 years.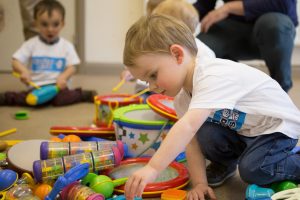 Welcome to the Oxfordshire Musical Minis pages – I'm Hayley Clements, the Oxfordshire Musical Minis franchisee.
I've been working in music education for the last 21 years as a secondary Head of Music and in my role at the Royal College of Music, London where I lead the Learning and Participation team. I have three children, Poppy (12), Josie, (8) and Oscar (5) who brought me into the fun and sociable world of Musical Minis! In 2015 we moved to Oxfordshire and I began attending classes in Aynho with Josie, it was a lovely (and instant!) way to meet new people and enjoy some fun times with Josie, who also made lovely friends.
The Musical Minis programme is a pre-school music group for babies, toddlers and pre-schoolers. Each structured session encourages cognitive, physical and emotional development through the use of music, instruments and stories. The classes are 45-minutes of fun for you and your child with action songs, puppets, story and free-play instrument time and more!
If you are looking for a relaxed, friendly activity in which you can watch your child develop through the enjoyment of music then come and join us at one of the Oxfordshire classes!
We love to welcome you and your child (ren), so why not book a place? See Book Your Place for details of classes in your local Oxfordshire area or contact me directly for more information.
CLICK HERE to watch a video about Musical Minis in Oxfordshire.